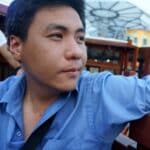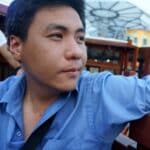 Award-winning sculptor from Dagupan
"Pope Dalisay is a multi-awarded sculptor who has won three Grand Prizes for Sculpture: the 2015 AAP (Arts Association of the Philippines), 2016 GSIS, and 2018 GSIS national art competitions. He was also a consistent top placer at the Metrobank Art and Design Excellence Sculpture recognition program in 2018 and 2019. A self-made sculptor and an autodidact in the arts, Pope has captivated audiences with his inventive sculptures and extraordinary style. He is a versatile sculptor able to work with a wide range of mediums and forms. His works exhibit depth, substance and maturity considering he has only begun his career in the arts in 2015. Pope was born December of 1984 in Butuan City, south of the Philippines and grew up in Davao City. Having taken a medical course in College, never in his wildest dreams did he imagine pursuing a full-time career in the arts; nonetheless, he has fully embraced his calling as an artist. His greatest development in the creative field was when he left for Cebu in 2011 and experienced firsthand the world-class design industry. He has learned much from being able to work hand in hand with top artists and designers. Now a resident of Dagupan City, Pangasinan (since 2015) he has dedicated his life to exploring and discovering the arts and mastering the craft. He also teaches and promotes the arts to the youth and the community."
What inspired you to be creative?
The power to create one's vision into life is simply divine...