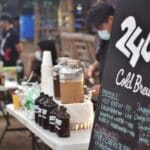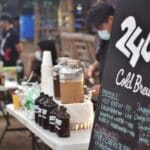 2400 Cold Brew is run by passionate coffee aficionados from Dagupan City. They offer Quality Cold Brew Coffee made from 100% pure Arabica from Mt. Matutum, South Cotabato, which is produced by the Indigenous B'laan Community. Their products come with flavor notes of chocolate, citrus, and fruits.
Other than their Cold Brew (Php100), they also serve other caffeinated drinks such as Vanilla Latte (Php110), Dirty Horchata (Php100), and Iced Mocha (Php120).
They also offer juices such as Lemonade (Php75), Lemon+Yakult (Php85), and Orange & Lemon (Php80).
2400 Cold Brew is a pop-up coffee shop, so make sure to catch them at their spots by checking out their Facebook page at facebook.com/2400ColdBrew.