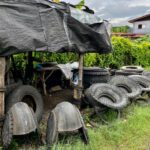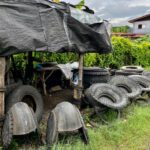 Bita: Tool of Success for Mang Alejandro's Rubber Business
Mang Alejandro started out by playing with the tools he found in his parents' furniture store. Now, he creates his own home pieces, only uniquely with the use of rubbers and even from scrap materials. 50 years later - and as he is now 75 years old - he is still at it, creating timeless pieces from his hands and imagination.
Mang Alejandro's main tool is called a "bita", which is a kind of knife typically used to cut rubber. His creativity works in the combination of this knife and rubbers. Apart from the rarity of his art, he offers both speed and affordability in his products. At the price of P3,500, one can already avail of a customized set of rubber furniture that would already include four chairs and one desk that can be completed within two weeks. While his main clientele can be found within the province, his products have also reached other places such as Pampanga, which is a furniture hub on its own.
Mang Alejandro's workshop is located at Zone 1, Barangay Pao in Manaoag along the Manaoag-Pozzorubio road. You may contact Mang Alejandro at 09192465943.