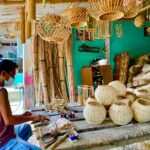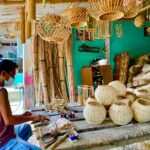 RATTAN: Tabula Family's Gem
Planters, laundry baskets, wine holders, wall decor, mirror frames, chairs and many more --- these are all products made out of rattan made by Angel's Basket/Rattan in Brgy. Pugaro, Manaoag. It is owned by Angelbert Tabula, a 50-year-old small business owner rooted from Manila. According to them, they are always one of the chosen suppliers of decorations for every Bangus Festival and other events like weddings and even graduations.
Basket makers are indeed legacy businesses. Just like Angel who got their business from his parents and hopefully can be continued by his daughter, Angeline. If it so happens, she will be a third-generation Tabula who will be in the basket and handicraft making business. Since she also loves making baskets, she could create design innovations for it to be unique and more known.
For more queries, you may contact Angel's Basket/Rattan at 09309327138.