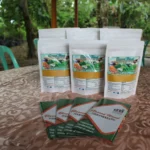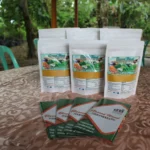 3 in 1: Blessed Manufacturers, Blessed Hands Food Products, Blessed Customers
The owners of Blessed Hands Food Products owe a lot to their healthy lifestyle changes, so much so that they established the business that would encourage other people to follow suit. One of them, Nino, credits turmeric for his recovery from a poor health condition. The entire family has also been fond of planting different kinds of herbs such as lagundi, malunggay, peppermint, lemongrass, sambong and guyabano. The start of their journey to success was in 2016 when they received business assistance from DOST in the form of a juicing machine and packaging support.
Blessed Hands Food Products is located at Barangay Lipit Sur in Manaoag. Apart from their healthy lifestyle, they also seek to bring honor to the faith, hence the name "Blessed Hands."
Blessed Hands offers processed turmeric tea which is best served with green tea and milk.
Contact them at their phone number; 09466319355 or you can follow their page Blessed Hand Food Turmeric Tea for orders and queries.