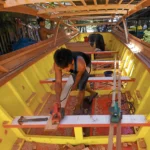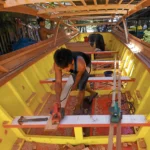 Manag-parka or Boat Makers: Pride of Pugaro Dagupan
Colorful, vibrant, and well-made - these characteristics describe how the boats in the beaches of Pangasinan look like. If you've ever wondered about the creative minds and hands behind those boats, they are known to be the "Mga Manag-parka" or boat makers from Pugaro, an island barangay in Dagupan.
From the city of Alaminos to the municipality of San Fabian, Pugaro' boat makers are considered the most-known across all communities of boat makers. They are your 'go-to' boat makers wherever people need to find boats that are high quality, whether for transport or fishing purposes. Since quality takes time, the boat makers only produce 5-6 big boats every year. Team effort is the key in their business, 5-6 people comprise their team and of them is a painter. It is very visible that they give much emphasis on the design that makes each boat look creative and attractive.
For inquiries, you may contact the Pugaro boat makers' representatives Lot Caballero and Ryan Alban at 09070318783