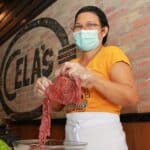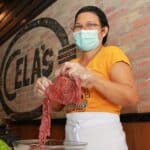 Cela's Meat Products offers great quality pindang meat (carabao and cow beef) - an iconic food product from and a source of pride of the municipality of Mangaldan.
What started out as a simple stall in the Mangaldan Public Market, Cela's Meat Products expanded and continuously dominated the meat processing industry by establishing branches inside and outside of Pangasinan and later spreading throughout Region I. From choosing the right meat source to how the meat is processed and packaged, Cela's Meat Products consistently puts out only high-quality meat products. They offer fifteen types of meat products, ranging from the original tapa, tocino, longaniza range, hotdog, ham, burger patties, meat balls, chicken macau, hamonado and embutido. Currently, Cela's Meat Products is known as one of the best meat processing businesses in Luzon.
For a taste of Cela's Meat Products' quality and high-class meat offerings, you may visit their Facebook page Cela's Meat Products, or contact Mrs. Marcela Barrozo at 0930 116 4042.