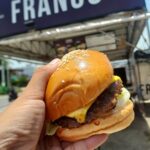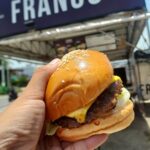 Old De Venecia Highway, Lucao District
Franco's is a burger joint located in Lucao in Dagupan that offers grass-fed beef burgers from New Zealand that are sandwiched between locally-sourced buns. Their best-sellers are the Franco's Classic, Bacon Lovers, and Double Up. They also serve cheesy crinkle-cut fries best paired with their house-blend iced tea. The place is a perfect avenue to unwind and bond with your family and friends.
Its owners are Zenny and Marvin Dizon, a practicing Neurologist and a former manager at a major pawnshop joint in the country, respectively. Having missed their favorite burger place in Manila at the height of the pandemic, the couple was inspired to start their own burger business in Dagupan. In the future, they dream of turning the roadside burger place into a restaurant and have branches in other places across Pangasinan.
You may contact Franco's at 09178722021, or follow their Facebook page at Franco's.