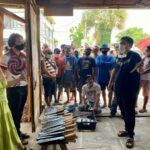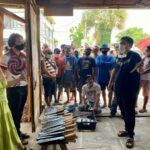 Justice Jiminez St. Brgy. Bari
Itak Makers are a small business of Pangasinense blacksmiths from Bari, Mangaldan specializing in the creation of sharp, thick-bladed bolos and itaks used by common folk in cutting through big slabs of pork and carabao meat. The itak is also used to cut through tree branches and bamboo shoots. These types of knives are ever-present in every Pangasinan household, as the province is known to have big trees and thick shrubbery.
If you want to explore getting your own signature itak, you may contact Mr. Bernardo Revilla at 09074012579.