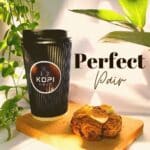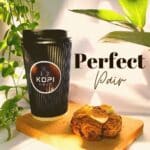 Looking for Instagram-worthy coffee shops? Finding the right coffee place to sit and do your school works in silence? Trying to find that special coffee that will jolt your nerves into overdrive?
Don't worry, Kopi has got your backs! With their sweet, creamy coffees and latte arts, your coffee craving will surely be satisfied, combined with their warm, brown country house aesthetic that will surely fit your coffee-shop person fantasy!
Kopi is an Instagrammable yet calm and peaceful coffee shop located in Barangay Cayanga in San Fabian. The ambiance is perfect whether you are looking for a nook to be productive or just want to hang out with friends. Kopi offers coffee and latte drinks, served piping hot or ice-cold, depending on your liking. They also have ice blends that are filled with oozing whipped cream topped with ube and sprinkled with cheese.
You can elevate your experience by dining in their brown-and-black, vintage designed interiors and tasting from their scrumptious selection of cakes and pastries that includes banana muffins, glazed donuts, and leche flan. The place also serves merienda favorites such as burgers and crispy fries. Kopi also offers limited delivery services within the town proper, subject to an additional delivery fee.
Visit Kopi's Facebook account (KOPI ショップ) or contact Willy and Simone Nabong at 09568108979 to learn more about the place.