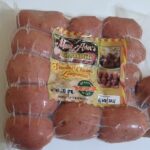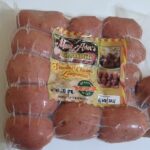 Mang Ador's Food Products was founded by Mang Ador, a former employee at a meat-processing company. Equipped with knowledge and experience in the meat processing industry, he decided to create his own products with the basic longganisa, and his food selection expanded from there.
Mang Ador's Food Products sells quality processed meat products that have no fillers and are ready-to-cook. Having roots from Buenlag, Mangaldan, their carabeef tapa is perfect for breakfast, lunch, and dinner! They also offer varieties of meat products like chicken tocino, chicken ham, and cheesy hotdogs!
For inquiries, you may visit Mang Ador's Food Products' Facebook page or contact Mr. Michael Aganad de Guzman at 0948 649 1144.