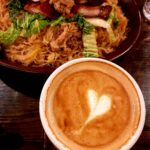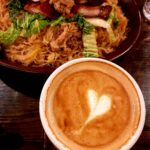 Matthew's is a local panciteria and noodle house that will cater to your festivities' needs, whether you're celebrating a birthday, a wedding, or just life in general.
Located in Barangay Cayanga, Matthew's Noodle House has become staple to every family celebration within the locality of San Fabian. Matthew's offers different pancit recipes like pancit guisado, pancit bihon, pancit palabok, and other pasta-based food like their saucy spaghetti and creamy carbonara. Their meticulous cooking and swift delivery make for the perfect noodle house that it is today. Apart from that, Matthew's has redesigned their noodle house to cater for even merienda snacks like the clubhouse sandwich and other snack meals.
Matthew's Noodle House accepts dine-in and take-out orders, and they also accept catering services for different celebrations. They offer their pancit and pasta in single meals or in bilaos varying from Regular, Medium, Large to Extra Large quantities. To know more about Matthew's Noodle House, you may visit their Facebook page (Matthew's Noodle House) or contact Jojo Ungria at 09435219735.