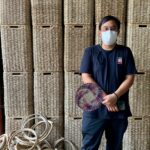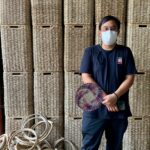 From knotting thin sheets of wood to waxing them, Sibayan Handicraft products are woven with passion and love. This handicraft store is a gem in Barangay Lipit Sur in Manaoag. The establishment is run by Mr. Rodrigo Sibayan who has been making baskets since he was 10 years old and has owned the business for almost 30 years now. Nevertheless, he stays determined to expand his knowledge on the craft and joins seminars and design workshops up to this day. Through this talent, he already championed in supporting his children's education leading the 5 of them to graduate successfully.
Sibayan Handicraft has shipped its products to as far as Cavite, Batangas, and Manila and has even exported to other countries.
For information on their products, you can contact Mr. Sibayan himself at 09186626482 or through their Facebook page (Sibayan Handicraft).