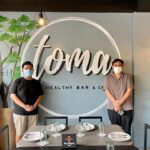 TOMA The Healthy Bar and Cafe serves plant-based, vegan, and cholesterol-free food and drinks for the health conscious diners out there.
Located at Banaoang West in Mangaldan, TOMA is open from 11AM to 8:30PM daily to serve your healthy food cravings.
The bar and cafe's best sellers include their fresh Vietnamese Spring Rolls that can be ordered in 12 or 26 pieces. They also offer free appetizers for first time delivery orders with a minimum of Php500 total order. They also have a buy 2 take 1 promo for their vegan milk tea, which is 100% plant-based. You can try these offerings for dine-in, pre orders, pick-up, or delivery.
For orders and inquiries. you may reach them on Facebook (TOMA The Healthy Bar and Café).